Tea Timer

Tea Timer is a widget that reminds you of all that stuff that you always forget and which either gets bitter/cold (your tea) or burned (your pizza). To alarm you, it can play a sound, play a voice message or even use Growl. Of course you can select which type of alarm you wish.
You can also choose between different background colors for Tea Timer to suit your dashboard.
To start a countdown, just click on the time or the timer target and little input fields will show up. Within the fields for hours, minutes and seconds you can use the up and down arrow keys to raise or lower their values and of course you can use Tab/Shift-Tab to switch between the input fields. After you have entered everything, press the play button (or just Enter/Return) and get back to work until Tea Timer reminds you.
Tea Timer currently speaks English and German – further translations are welcome.
If you find any bugs, please report them here.
Download Tea Timer 1.8.1 or take a look at some screenshots first: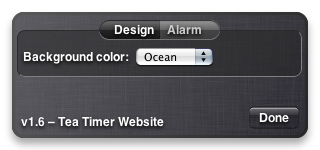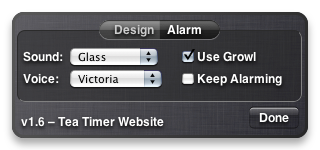 ChangeLog
[

FIX

] Issue #33: Trim whitespace around version number.
[

FIX

] Issue #34: Titles containing a «'» are now read.
[

NEW

] Growl 1.3 support
[

NEW

] Pink background
[

CHANGE

] Alarms are now called asynchronously. The voice and Growl message appear at the same time now (instead of after the other).
[

CHANGE

] The list of alarm sounds and voices is now created dynamically and thus contain Lion's new voices.
[

CHANGE

] Editing the fields for the timer target (e.g. "Tea") or "ready in" during a countdown will now longer reset the countdown. However, editing the countdown time during an active countdown will reset the countdown accordingly.
[

FIX

] Fixed a bug with keep alarming and sticky Growl messages. You won't get flooded by them anymore. Instead, there will be only one sticky Growl message when keep alarming is activated.
[

NEW

]

TT

now remembers if you don't want to upgrade to a specific version.
[

FIX

] Growl works again.
[

FIX

] Problem with pausing and resetting the timer.
[

NEW

] Rewind button for resetting an ongoing countdown to its initial value.
[

CHANGE

] Save current widget's settings as default settings for new widgets.
[

FIX

] Timer will be reset to the initial value, not the last pause value.
[

FEATURE

] Different settings for different instances of Tea Timer.
[

FEATURE

] Display current version on back side.
[

FIX

] Correct abbreviation for seconds.
[

FIX

] Click on «Tea Timer Website» no longer resets the settings for the current session.
2009-07-30 – 1.5.1:
[

FIX

] The stop button now only appears when »keep alarming« is on.
[

FIX

] Stopped Tea Timer spamming you with alarms when you change their settings and »keep alarming« is enabled.
2009-07-28 – 1.5:
[

NEW

] Tea Timer optionally keeps alarming you every five seconds. You can stop the alarm by clicking on the alarm clock.
[

CHANGE

] Tea Timer resets the timer to the previous value, not to 00:00:00.
[

CHANGE

] Update to jQuery 1.3.2
2009-01-22 – 1.4:
[

NEW

] Tea Timer now rembers its last timer target.
[

NEW

] "ready in" can be switch to "in". Depending on it, the alarm message will be "Tea is ready" or just "Tea". The status is beeing remembered.
[

CHANGE

] Upgrade to jQuery 1.3
[

FIX

] Added localization for "Irgendwas"
2008-12-13 – 1.3:
[

FIX

] Tea Timer fail with "08" or "09" as timer value
2008-12-08 – 1.2:
[

NEW

] Added link to Tea Timer's website on the back.
[

FIX

] Localization issue on update panel
2008-12-08 – 1.1:
[

NEW

] Pressing enter within an input field starts the timer.
[

FIX

] Fixed a bug with pausing the timer.
[

FIX

] Added Alex's voice.
2008-11-30 – 1.0:
[

NEW

] Alarm via Growl
[

NEW

] Alarm via a selectable voice
[

NEW

] Alarm via a selectable system sound
[

NEW

] Fancy animation for pref-pane transitions
[

FIX

] say-message now localized
2008-11-22 – 0.4:
[

NEW

] Info button and back side
[

NEW

] Set color for the front background within the widget preferences.
[

NEW

] Widget localization and English translation
[

NEW

] Update notification shows current and available version.
[

NEW

] Fancy drop shadows for text ;-)
[

CHANGE

] Overhault default background and widget icon
2008-11-11 – 0.3:
[

NEW

] Initial release
[

NEW

] Change timer target
[

NEW

] Change time
[

NEW

] Cycle through input fields view tab/shift-tab
[

NEW

] Raise/lower numbers with up/down arrow keys
[

NEW

] Start countdown
[

NEW

] Alarm with voice message (by Victoria)
[

NEW

] Available only in German
[

NEW

] Automatically check for updates